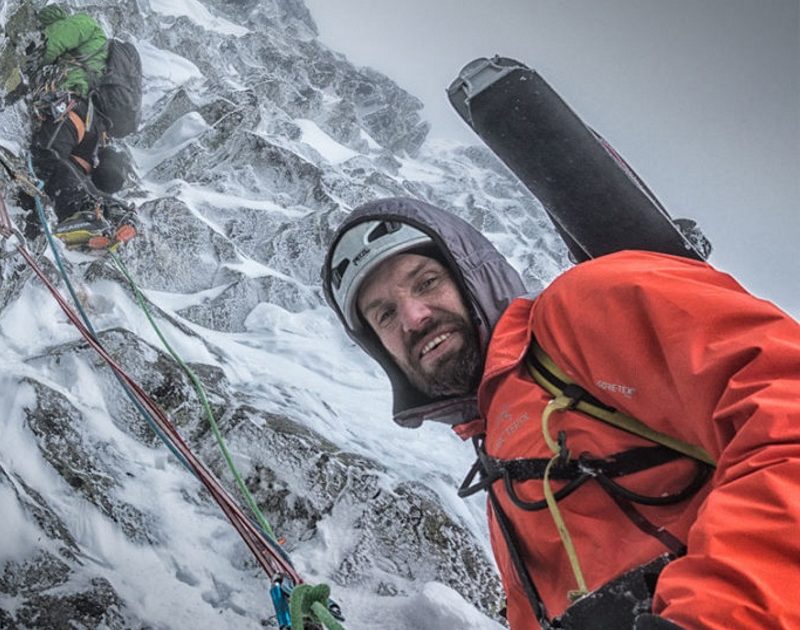 I started my adventure with climbing in early nineties. Through three decades I have managed to reach hundreds of peaks and climb uncountable numbers of routes all around the world. In Patagonia I climbed both – Cerro Torre and Fitz Roy, I set up new routes in Karakoram climbing unconquered peak there. I have enjoyed many climbs in Alaska, Alps and Dolomites both in winter and summer. Still, Polish Tatras hold a special place in my heart as these are the mountains that carved my climbing attitude and character. Winter is my favourite season there – wilderness and alpine character of the mountains can deliver unforgettable experiences.
Mountain lovers can find a full variety of different challenges in Tatras – solemn granite peaks, demanding big-walls, interesting mixed-climbing, great off-piste areas and wild valleys waiting for skitouring fans. However I travelled the world in search of beautiful aims, I have been constantly getting back to fulfil my mountain passions in Tatras. And I am sure there is still so much more to be discovered there.
As well as climbing I also do like writing about mountains. I have been cooperating with major climbing and outdoor media both in Poland and beyond the country. I have published many articles in Polish magazines: Góry, Taternik, Tatry and on www.wspinanie.pl . My photos and articles have been also released in Alpinist, American Alpine Journal, Up-Magazine, Desnivel and Climb. For six years I had an honour to be a president of UKA climbing club (Uniwersytecki Klub Alpinistyczny) and up to day I am editing its yearly magazine – BUKA.
I was a leader of some climbing expeditions under the auspices of Polish Mountaineering Association.
I am an IFMGA/UIAGM/IVBV mountain guide and sport climbing instructor with an Academy of Physical Education license.
I am a member of Team Petzl Poland, which I am really proud to be.
I had also a period of running in my life with a couple of marathons with a score below three hours and a couple of sky-runs with UTMB (Ultra Trail du Mont Blanc) and the first edition of BUGT (Tatras's Ridge Ultra Trail).
Between climbing and guiding I still manage to find time for running a small event company based in Warsaw. While running a business I benefit from my sociologist background.
25 years of unstopped climbing has resulted in a certainty that this is the way I want to spend my life. This would not been possible without my family, friends, partners that support and accompany me in my mountain activities. I am lucky with people – I meet and climb with those who I like and respect. That is why I enjoy every day spent in the mountains.
I am a father of two sons and a husband of a climbing wife.
Born in 1976.

Warning: in_array() expects parameter 2 to be array, string given in /home/dlaludzi/domains/przewodnikwysokogorski.com.pl/public_html/wp-content/themes/bonfire/templates/content-singleO.php on line 160