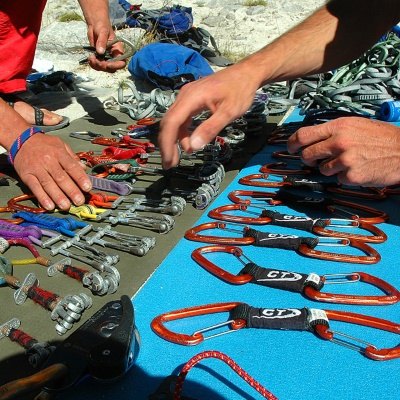 Climbing and mountain gear
I supply you with mountain gear i.e.: helmet, harness, crampons and ice-axe. If you prefer to use your own equipment – I don't mind this, it's better to act with the things you like and use.
As for myself, I use Petzl equipment – their helmets, headlamps and harnesses. For the most, in winter and in the Alps – I use Petzl's crampons and ice axes – their quality is simply the best.
To get warm in severe conditions – I am cooperating with a Polish brand – Aura – that produces the best quality down jackets, vests and sleeping bags. What I love the most is their Climashield technical jacket – X1.
On your side is your outfit, which depends on the weather conditions and chosen aim:
Outfit must suited to the weather. It's good to have some spare garments such as gloves, beanie, waterproof jacket and fleece. It's surprising how often one forgets about these.

Suitable shoes. In summer Tatras you need only light approach shoes, below ankle, with good sole. For Alps or winter you will need a higher shoes to which one may install crampons.

25/30 l backpack.
Head torch – if you don't have one, let me know in advance.

Climbing shoes if we peak a climbing aim.
In the Alps, especially Mont Blanc massif, one may rent shoes for crampons but I highly recommend buying one's own and trying them before getting to the Alps. It's better to have fun in comfortable shoes instead of dying with each step in rented ones.
Once you book me I shall pass you the detailed list of all necessary equipment!
Skis and ski-touring gear
If you don't have a ski-touring gear: skis, shoes or poles – I will help you to rent a set suiting it to your skills. I supply a ski-alpinist set if you choose an aim that demand these: crampons and ice-axe.
Avalanche rescue kit
Training
Summer Tatras
Reaching Gerlach or Mnich does not require an athlete's shape. Of course, if one trains regularly this will not disturb in getting to the top. But do not worry – you don't have to spend 7 days per week in a training room before booking a tour with a guide. As with any physical endurance effort – it's enough if you care about a proper balance between working/training/eating.
Alps
However Mont Blanc and other alpine peaks demand some more preparations these are still reachable without special training. Acclimatization is a key issue here and this is what we're going to work upon at the beginning of our program.
Climbing
You don't have to do 6b OS to find satisfaction while climbing multipitches on granite or limestone alpine walls. Training indoors is helpful but not necessary to climb a nice, long multipitch route in the Alps, Tatras or other beautiful areas. The overwhelming amount of routes outdoors allow to find a suitable and satisfactory adventure on each level of difficulty.
Health and age
Everyone is welcomed. A popular saying claims 'The best climber is the one that gains most joy out of it!' Don't hesitate to get the best of the mountains. Together we will set a suitable aim to your shape and dreams.
If you take any medicines or suffer of any chronic disease – share this with a guide before getting to the mountains. This is a condition of getting you safely back.

Warning: in_array() expects parameter 2 to be array, string given in /home/dlaludzi/domains/przewodnikwysokogorski.com.pl/public_html/wp-content/themes/bonfire/templates/content-singleI.php on line 160