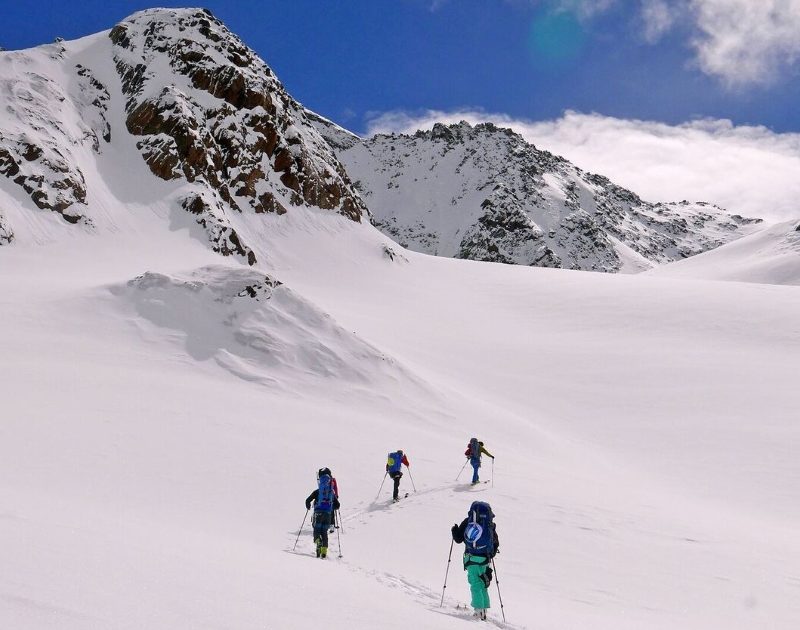 I spent in the Alps half of my climbing life. The variety of peaks, majesty of glaciers and uncountable technical walls still amuse me after all these years. If you've got some more time, want to build or enrich your alpine experience no matter if climbing or skiing – I am ready to explore its vast spaces with you.
PEAKS
Thinking of Alps one immediately visualises its top – Mont Blanc with its impressive 4810 m. Reaching Mont Blanc top needs some preparation but experiencing the dawn on the top of Europe is a lifetime experience. Same with Matterhorn, Grossglockner and other desired alpine peaks – I will help you to prepare for this challenge.
However the majesty of golden classics – Matterhorn and Mont Blanc are tempting, the variety of Alps starts, not ends there. One look at fantastic Dent du Geant, ambitious Grandes Jorasses or at a symbol of alpinism Aiguille Verte is sometimes enough to start a dream of reaching these magic points. And there are so many more in Mont Blanc or Monte Rosa massifs, and around Zermatt. Even if you are not a seasoned alpinist I am ready to take you there. Handful of preparations + a drop of effort and a dream becomes true. Fulfilling one dream can be a start of another…
LOGISTICS
However seasoned you are it's important to have in mind that:
Distances in the Alps are one of the main features distinguishing them from other European mountains. However trivial this may sound there is much more time needed for an approach, a trial (no matter if we try a rock climbing, a ridge, or planning skitouring), and a safe comeback. My experience proves that this surprises even the most experienced clients. However close the aim seems in fact is far much distanced that we assess at first glance.

Alpine glaciers are adventures themselves. Acting on glaciers demands not only carefulness but also a thorough knowledge how to find safe trail between crevasses, seracs and snowfall.

Altitude of the Alps can beat even experienced alpinist. It's the most common reason of withdrawal. HYPE can start even at the altitude of 3000 m. That is why proper acclimatization is crucial for your success.
I am equally concerned about both: success and safety of my clients. That is why I usually offer min. 5 day program in order to minimize the risk of wrong acclimatization, lack of experience with acting on a glacier or perseverance for long distanced walks. Within 5 days we
Spend 3 acclimatizing – if you are starting your adventure with mountains – I shall introduce you to the world of crampons and ice-axe use. We will walk on a glacier and reach some acclimatization peaks. We will spend at least one night in a mountain chalet placed at a proper altitude.

2 days are for the summit attack
Still, if you don't have time or plan to reach Mont Blanc but you want to spend a day or two on multipitch climbing or climb some exposed ridges – feel free to book me for single days.
EQUIPEMENT
In standard I supply you with: rope, harness, helmet. Additionally in winter: with crampons and ice-axe. Still, the Alps demand a longer list of preparations. Depending on the aim – I will consult this with you before starting the trip.
PRICES
Spending one day in the Alps with an IFMGA guide starts from 300 euros. Final price is defined by aim's difficulty, tour length, time of the year and most importantly – number of participants.
Depending on local law, weather conditions and difficulty of the aim a guide is allowed to act with up to three clients. I.e..
Grossglockner, normal route – max. 3 participants

Grossglockner, Studlgrat – max. 2 participants

Mont Blanc, normal route – max. 2 participants

Mont Blanc, 3M route – 1 or 2 participants depending on conditions

Matterhorn,

Hornli Ridge, Lionsgratt – 1

participant

Warning: in_array() expects parameter 2 to be array, string given in /home/dlaludzi/domains/przewodnikwysokogorski.com.pl/public_html/wp-content/themes/bonfire/templates/content-single.php on line 149