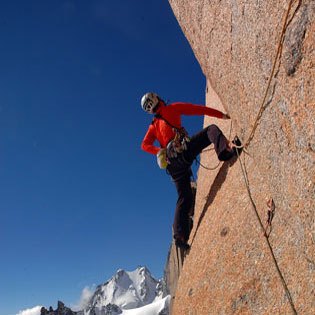 THE ROCKY SUMMER IN CHAMONIX
Mountains are your focus. You have already done some climbing and now you think how to start climbing in the highest parts of European continent. You want to measure with a history of alpinism or the breathtaking altitude of fourthousenders and you need a bit of professional support. Since I am climbing in the Alps for more than 20 years – I will help you to carve your mountain experience.
AIMS:
Chamonix Valley with Mont Blanc massif is a heart of world alpinism. If you dream of a warm sunny granite, a big-wall adventure, a multipitch sport climbing starting directly from a glacier – Chamonix is your summer Mekka. You prefer more alpine attitude? Don't worry serious routes in distant corners of the massif or historical conquer routes are waiting to give you your turn! Grand Capucin, Aiguille Verte, Grandes Jorasses all the iconic mountains in one massif – simply incredible.
LOGISTICS
Depending on your dreamed aim, skills, weather conditions and time, we set up a framework to maximise the effectiveness of our common effort.
Most of cases, we start from Chamonix. Early in the morning we catch the first cable car to Plan des Aiguille or Aiguille du Midi. For Grand Capucin surrounding we head towards Rifugio Torino on the Italian side of the massif. After all day long in the mountains – we are back to a late dinner in Chamonix.
It your aim is more distanced or difficulties are higher, we sleep in one of mountain refuges: Rifugio Torino, Monzino, Bocallate, Dalmazzi on Italian side or Refuge Envers des Aiguille, Albert 1er, du Couvercle, d'Argentière or Leschaux in France.
If the weather forecast is poor and there is a constant rain or snowfall in the massif, we jump into the car and change a region. There are many multipitch routes one hour drive from Chamonix, that allow us to spend a good day in the mountains even if the Valley is in a bad mood!
EQUIPMENT
I supply the climbing and glacier gear (ropes, hooks, quickdraws, ice-screws, crampons, ice-ax). Personal equipment – such as helmet, harness, belay device, shoes – is on your side. In case of emergency – I can supply you with all the above apart from climbing shoes. Alpine climbing needs some more equipment; once we book a day or two together and set up an aim – I shall send you a list of indispensable gear to be taken.
PRICES
Depending on a difficulty of an aim – a climbing day in the Alps starts from 300 euro. In most cases, I am booked for more than one day, so the price changes naturally. Climbing trips to Dolomites or Alps take at least 4 days. Final price is always a combination of number of days booked, the difficulties and number of participants. Depending on an aim a guide may take one or two participants maximum for climbing.

Warning: in_array() expects parameter 2 to be array, string given in /home/dlaludzi/domains/przewodnikwysokogorski.com.pl/public_html/wp-content/themes/bonfire/templates/content-single.php on line 149