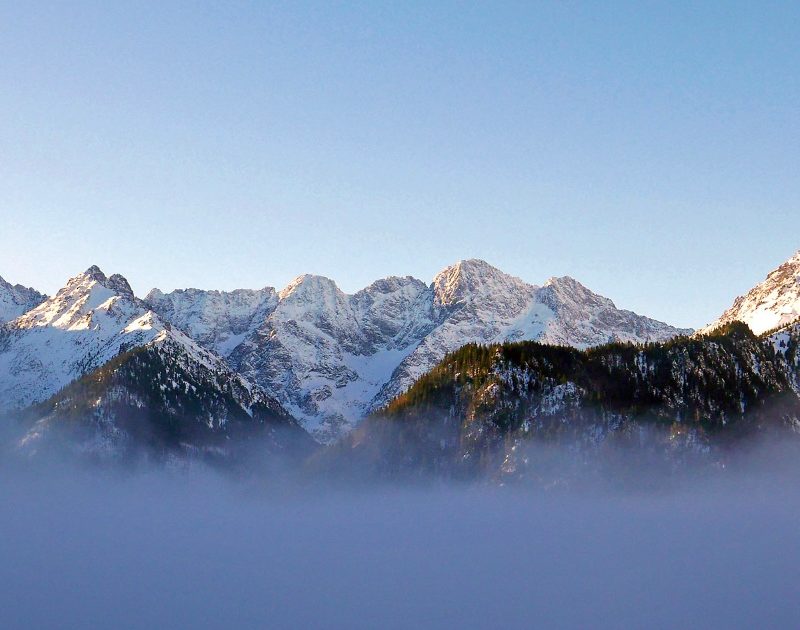 As Tatras' connoisseur and Poland's located guide I am ready to show you its most scenic and demanding corners on both – Polish and Slovak sides. Its summer granite walls or winter snowy peaks stand open for our exploration.
PEAKS
There are many amazing mountains to climb in Tatras: highest Gerlach, majestic Łomnica or Wysoka, icy Lodowy Szczyt, impressive Mięguszowiecki Szczyt Wielki, wildly located Ganek and Kończysta or rocky Mnich. Some of them are highly recommendable for summer, other for winter. There is a variety of routes we may choose to climb, shorter or longer, more or less technically demanding. Taking into consideration your skills, experience and most importantly preferences we shall definitely find an aim for your adventure.
RIDGES AND NEEDLES
If collecting peaks is not your primary idea and you like exposed, long skywalks – Tatras offer you extraordinary ridges.
A day on Martin's Ridge on Gerlach, Mięguszowieckie's Ridge, Widły's Ridge, Batyżowiecki's Ridge, Kościelce's Ridge, Siarkany's Ridge will definitely deliver incredible experiences.
Peaky points? Mnich, Igła in Patria, Igła in Osterwa, Zadni Mnich, Ostry Szczyt, Żabia Lalka and Żabi Mnich, Wschodni Szczyt Żelaznych Wrót, Żabi Koń make the fabulous collection of granite peaks we may climb together enjoying winter or summer conditions.
In the wildest corners of Tatras Szatan, Baranie Rogi, Grań Baszt are awaiting for real adventure seekers. Choosing one of these distant aims there is a great possibility that we won't see a soul for a whole day. Having the mountains for an exclusive day shapes a unique experience.
Still, if your dream is defined – I will do my best to help you reaching it.
LOGISTICS
Depending on aim, weather conditions and time of the year, we start from Zakopane between 5 and 7 AM and head towards the chosen valley. If necessary we use cable car or drive up to the distant valley. Then, where needed, we abandon a car and bravely approach the wild on foot. After some time, we leave a trail, put harnesses on, tight a rope and get on to the peak. It's as simple, as that.
One-day trip may take us from 5 up to 12 hours and more depending on difficulty of the aim, distance and weather conditions. Below you find an average time of classic tours:
Mnich: 4-6h

Gerlach: 6-9h

Ganek: 7-10h

Lodowy Szczyt: 11-13h

Łomnica (easiest route): 4-6h
EQUIPMENT

In standard I supply you with: rope, harness, helmet. Additionally in winter: with crampons and ice-axe. Everything else such as: back-pack, shoes, food, suitable outfit, water is on your side. In case of questions: jump here. If you still have queries – don't hesitate to contact me.
PRICES
Spending one day in Tatras with an IFMGA guide starts from 250 Euro. Final price is defined by aim's difficulty, tour length, time of the year and most importantly – number of participants. There are peaks in Tatras where a guide can take 3 participants maximum, but on most of the peaks 2 participants are allowed.

Warning: in_array() expects parameter 2 to be array, string given in /home/dlaludzi/domains/przewodnikwysokogorski.com.pl/public_html/wp-content/themes/bonfire/templates/content-single.php on line 149